CLASSIC DRY COMFORT
Espace drysuit is made of light and extremely durable fabric trilaminate Nylon/Butylen/Poliester with density of 420gr/sqm.
It is cut in a way that makes it easy to adjust to any figure and does not limit movements in any direction.
Telescopic torso stretches up to 30 cm and gives you great mobility,
regardless of the thickness of an Undersuit.
Espace is equipped with neoprene boots. We add a collar hood made of 7/9 mm soft neoprene
or any other from Santi range according to request.
16 sizes in standard, MTM/Custom offer, additional choice of options available
Avaliable sizes: XS,S,SL,M,ML,MLL,LS,L,LL,LLL,XLS,XL,XLL,XXLS,XXL,XXXL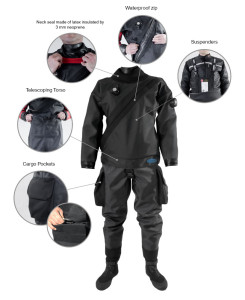 Features:
total weight: 4 kg
fabric: Nylon/Butylen/Poliester 420 gr/sqm
colors: black, black/red, black/blue
telescoping torso
front entry zipper
Apeks valves
two pockets on thighs
neck seal made of latex insulated by 3 mm neoprene
HD bottleshape wrist seals
6 mm Neoprene boots
medium pressure hose
bag
3 years warranty